After a typical Ohio winter, we can all agree that we are ready for spring, ready for warmer weather, for leaves to be out on the trees and for flowers to start blooming. If you would like see the vibrant colors of daffodils, tulips, hyacinths and alliums, remember to plant the bulbs this fall. Getting the bulbs in place before winter will ensure a colorful garden in the spring.
There are many options when it comes to spring bulbs. The two most important questions to ask yourself when choosing which flowers to install are 1. What colors would you like? and 2. When do you want the flowers to bloom? The color selections are almost endless including purples, blues, reds, oranges, yellows, whites and pinks. The bloom times are categorized into 3 groups, early bloomers, mid bloomers and late bloomers.
Here is a breakdown of three of the most popular spring flowers.
Tulips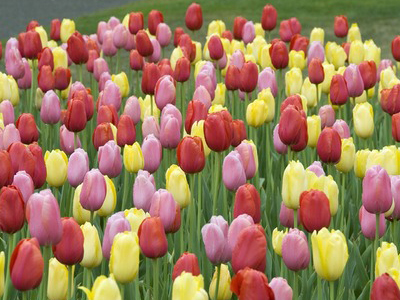 Colors – Purples, Yellows, Oranges, Reds, Pinks, Whites, Multicolored
Bloom Time – You can find varieties for each (early season, mid season and late season)
Height – 12"-24"
Popular Varieties – Sunglow, Marshmellow Fields, Sunset Reflection, Purple Prince, White Emperor, Queen of the Night, Big Smile, Red Present, Pink Impression, Fruit Punch and Innuendo
Daffodils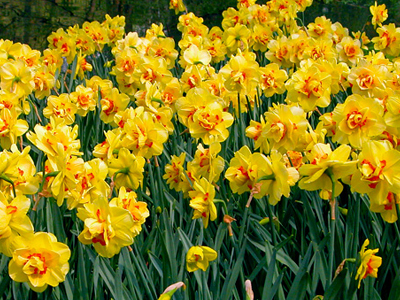 Colors – Whites, Yellows, Oranges
Bloom Time – Similar to tulips you can find some varieties that bloom early, some that bloom mid season and some that bloom late.
Height – 12"-18"
Popular Varieties – Dutch Master, Fortissimo, Jamestown, Tropical Sunset and Tahiti
Hyacinth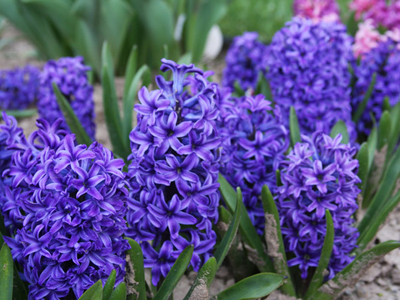 Colors – Whites, Blues, Yellows, Pinks and Purples
Bloom Time – Most Hyacinths bloom mid season
Height – Around 12"
Popular Varieties – Carnagie, Delft Blue, Jan Bos, Peter Stuyvesant and Pink Pearl
We carry several different varieties of spring bulbs.  Contact us today for pricing and installation options.