Everyone loves a well-manicured lawn, but it's no secret that they take a lot of time and effort. Not every homeowner has the kind of time necessary to devote to proper lawn maintenance. However, lawn neglect carries some serious downsides. Here are five reasons why you should do what it takes to stay on top of your yard work:
1. Boost Curb Appeal, Gain Value
Even if your grounds are less elaborately landscaped than a Better Homes and Gardens contest winner, keeping your lawn maintained adds to your home's curb appeal. If you're planning to sell the house at some point, buyers will take a greater interest in a home with well-tended surroundings. A weedy, unkempt lawn could lower the value of not only your house but the surrounding homes too.
2. Weeds and Their Relentless Seeds
Ignoring the weeds that naturally find a cozy home in a poorly-maintained yard makes it considerably more difficult to eradicate them once you make time to bring the lawn up to speed. If allowed to grow to maturity, weeds put out thousands more seeds to anchor in your ground and blow around the neighborhood. Before long, the weeds will overtake the turf, and the grass will face a mighty struggle to reconquer its territory.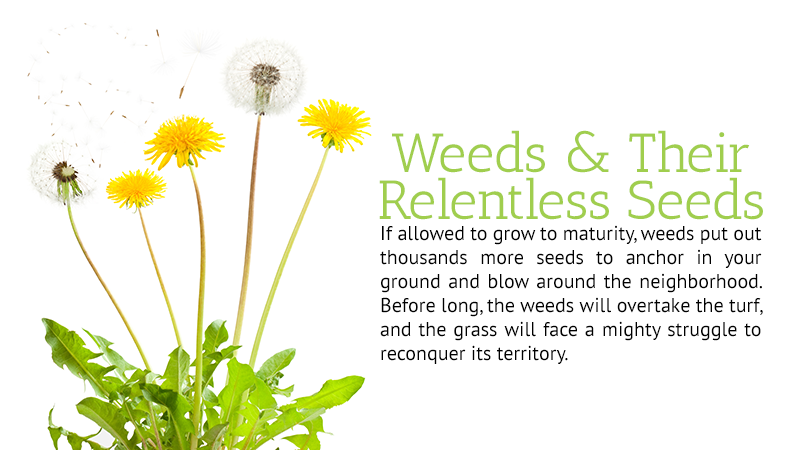 3. Tireless Armies of Pests
Even if you perform the basic lawn care chores of watering and mowing, insects love to burrow in and eat your grass from the roots up. It's the go-to place for overwintering beetle species and other pests. Plus, in our Central Ohio climate, mosquitoes and ticks proliferate if not tamped down with regular pest control. Lawns should receive the proper applications of insecticides at the first sign of their presence. A professional landscaping service can identify the specific bugs destroying your lawn and offer the right solution at the proper time.
4. Hunger Strikes Lawns Every Year
To keep the turf lush and thriving, every lawn should receive a hearty meal twice a year. Don't forget the trees and shrubs as well! Since most residential lawns have too thin of a layer of suitable topsoil in which to grow, the vegetation eventually depletes the nutrients in the soil then begins to thin out and fail to flourish. A good feeding in the spring and a pre-winter booster application in the fall will satisfy your turf's appetite each year.
5. Color Springs from Fall Preparation
Having the first of the gorgeous bulb flowers bloom on your block in spring will please your winter-weary soul and those of your whole neighborhood. But the spring plan happens in the fall with carefully chosen, planted and nourished bulbs. If you already have nice beds of crocus, tulips, daffodils and iris, you need to dig in, thin and fertilize the bulbs every couple of years or so to continue producing large, lovely blooms.

Those homeowners who would like to maintain lush landscaping rather than pursue the alternatives have plenty to do. But if you find that you can't budget the time or you no longer have the energy, please call us at Meyers Green Services. Our experienced crews would love to take care of any of your lawn upkeep. We can do as much or as little maintenance as you need. We can take care of weekly mowing or just come for fertilizations, aerations, pest control or tree and shrub grooming. Whatever your budget, we can find a plan that works for you. If you mention this blog, we'll even give you 10 percent off your first service!