Now that summer is here, you'll be taking care of your lawn every week. The choices you make for enhancing or protecting your lawn, however, can affect your pet's health and safety. To help keep your dog or cat safe this summer, we recommend the following tips:
Water and Shade to Keep Your Pet Cool
Whether you're at home or on the beach with your pet, make sure they have access to clean water at all times. Animals can easily overheat during summer, so it's essential that you keep an eye on the temperature when playing outside. Have small spurts of playtime and relax in the shade to cool off.
Pesticide Hazards
Most pet owners have no idea how toxic the pesticides and weed killers are in their yard. Even if the chemicals don't kill an animal on contact, they can have devastating terminal effects. For instance, extended exposure to pesticides can lead to lymphoma, bladder cancer and respiratory complications. If any of the products you use contain dichlorophenoxyacetic acid, then your pet could suffer from cancer or severe skin rashes. Specific products to look for are those that contain the following:
Crabgrass killer
Weed killer
Turf builder
Weed & feed
Flea and tick preventatives
Herbicides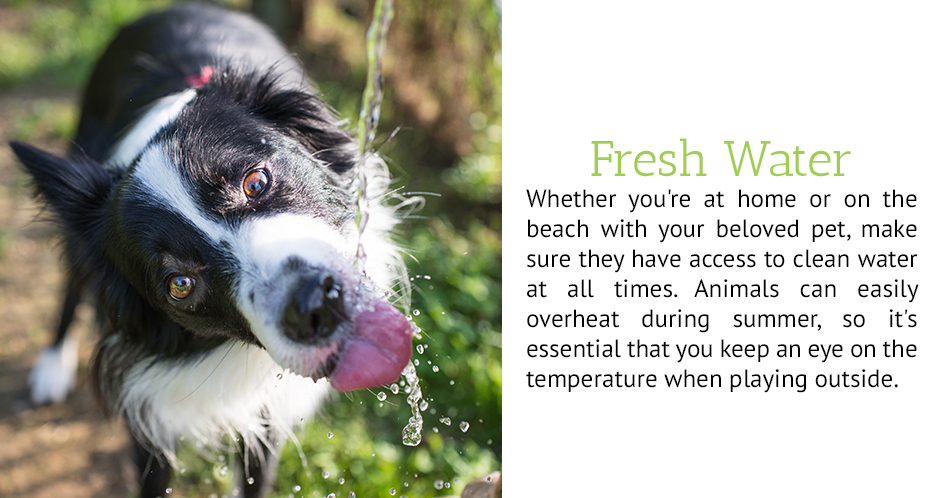 Fertilizer and Yard Treatment
On the outset, man-made fertilizer is actually quite harmless when scattered or poured on the lawn. If your dog or cat eats some grass that contains fertilizer, there is virtually no chance that they will succumb to any poison. Where the problems lie is if the fertilizer is directly ingested. If large amounts of chemicals are swallowed, it can lead to an overdose in the fertilizer. Dangerous substances in fertilizer can include high levels of iron, carbamates and organophosphates. When ingested these substances may result in:
| | |
| --- | --- |
| | |
| | |
| Excessive Saline in the Eyes | |
| | |
| | |
Keep in mind that whatever fertilizer or yard treatment you decide to use, you should wait for 24-hours after the application before you allow either children or pets to come in contact with the grass.
What to do if Your Pets are Poisoned by Yard Chemicals
If your cat or dog exhibits symptoms of poisoning, then you should contact your local veterinarian immediately. If you cannot contact a vet, then you can call the ASPCA Poison Control Center national hotline at 888-426-4435. You may be able to help your pet at home by following the instructions of a professional.
Contact Meyers Today for Pet Care Questions
At Meyers Green Services, we are dedicated to providing home and business owners in Columbus, Ohio with responsible, eco-friendly lawn care solutions. We are a locally owned landscape design company that can help you with all your landscape projects both large and small. Call us today at 614-210-1126 to request your free estimate.