Does your lawn look more brown than green? Is it completely failing in places, leaving ugly bald spots? This is a common problem that many homeowners encounter due to a variety of factors, including insect infestation, overly compacted soil, too much shade, damage from dog urine and heavy foot traffic. However, overseeding is the solution your lawn needs to make it healthy again. Here's what you need to know:
What is Overseeding?
Lawns that start to thin or become patchy in several places need some serious maintenance. Overseeding with fresh seed will revitalize your whole lawn and return it to a beautiful uniform color and lush texture. Overseeding is the process of planting new grass seed without removing the existing lawn or the soil. In other words, you are filling in the bare or brown spots as well as increasing the durability of your current grass.
It's important to start with the right kind of seed for your particular climate and sun exposure, and you'll also need to consider if the lawn will be used mainly for recreation and will receive heavy traffic. If there are dead spots in your lawn where most foot traffic occurs, you may want to consider reseeding with a more durable grass. Aeration combined with overseeding can eliminate the problem of soil that has become overly compacted, so the new grass will be able to grow a larger, healthier root system to withstand drought and other problems.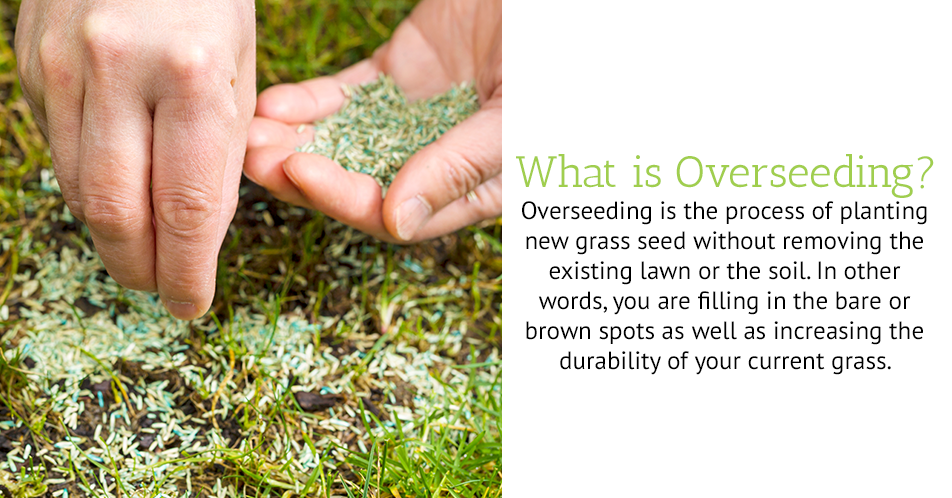 When is the Best Time to Overseed a Lawn?
The best time to overseed a lawn depends on many factors, especially the climate in your area. If you want to overseed your winter-dormant lawn with grass that will stay green through the cold months, a lawn should be overseeded in the autumn. For a great summer lawn, overseeding should be performed in the early spring. However, a lawn should not be aerated or overseeded when snow or ice is on the ground. Your local lawn services should be able to advise you of the correct time for aeration and overseeding.
Keeping the Green
A regular lawn care maintenance service will guarantee your newly overseeded lawn will continue to grow and remain weed and insect free all year long. A beautiful green lawn gives a home great curb appeal and can increase the value of the property. Even if you don't have the time to maintain your lawn, Meyers Green Services can do all the work for you. All you have to do is sit back and enjoy your beautiful lawn!
Call Meyers Green Services
Meyers Green Services is your lawn expert to call in the Columbus, Ohio area. We can offer our customers the benefit of our many years of experience and the most up-to-date techniques in lawn care.
Don't forget to mention this blog to receive 10% off of an aeration or overseeding service for your lawn. Contact us today to get started!