Having a lush, green lawn is a goal that many homeowners strive for. While proper lawn care, including planting, aerating, weeding, fertilizing, overseeding, aeration, mowing and edging are essential elements for keeping your lawn looking great, choosing the right grass seed for your location is crucial to creating a beautiful lawn.
Types of Grass Seed
The majority of lawn grasses are classified as being either "cool season" seed, which are better adapted to northern climates, or "warm season" types best suited for southern gardens.
Cool-season grasses thrive in the spring and fall months and often turn brown during hot weather. The most common cool-season grasses include tall fescue, perennial ryegrass, Kentucky ryegrass and fine fescue.
Warm-season grasses grow best in warm and moderate weather, and go dormant or turn brown when temperatures dip. The most common warm-season grasses include Bermuda, St, Augustine, and Zoysia.
Best Grass Seed Options for Ohio
Lawn care professionals typically recommend only a few species of grasses for the Ohio area. The most recommended include Kentucky bluegrass, tall fescue, fine fescue and perennial ryegrass. Beautiful, healthy turf usually contains a mix of different grasses, each with their own strengths and weaknesses. Growing seed blends or mixtures is optimal. If one seed doesn't do well or is affected by a disease, other varieties will take over and flourish. Foot traffic, soil type, drainage, watering methods and turf use can all affect your grass seed selection. What works for a residential lawn with active children or pets may not be the best choice for a commercial property. Choose grass varieties that are well-suited to your particular location, soil type, and your lawn's intended use for the best-looking, easy-to maintain-lawn.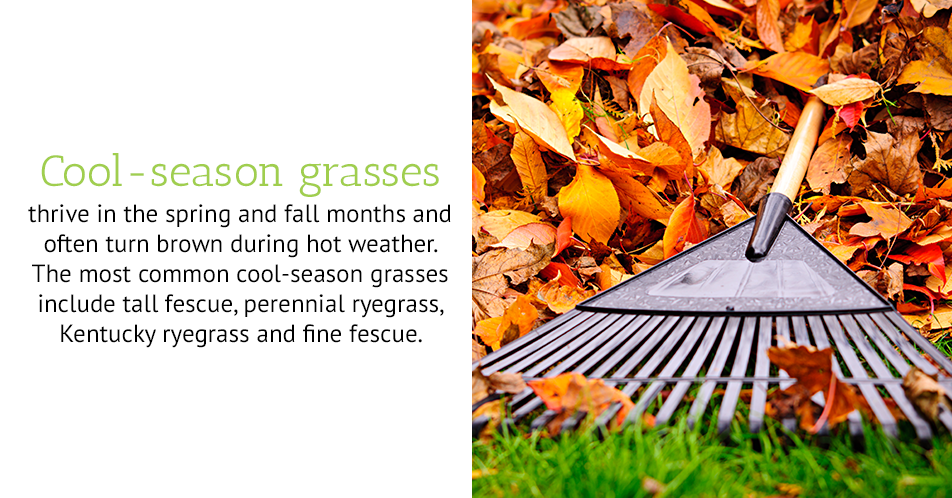 Keeping It Green
A lush green lawn gives curb appeal to your home or business and can increase the value of the property. Whether you are installing a new lawn or overseeding your current turf, regular lawn care maintenance guarantees that your grass will continue to grow, stay thick and healthy and remain weed and insect free all year long.
Call Meyers Green Services
If you don't have the time to install, reseed or maintain your lawn, Meyers Green Services can do all the work for you. Meyers Green Services has been your full-service Columbus, Ohio lawn expert for over a decade, offering our customers the benefit of our years of experience and employing the most up-to-date techniques in lawn care. Call us at today and mention this blog to receive 10% off of an aeration or overseeding service for your lawn. This offer won't last long, so give us a call today to get started!