The luxury of an inground swimming pool calls for commensurate landscaping with the pool it surrounds. The upshot to watching your former landscaping undergo destruction as the pool came into being is that now you can start from scratch with your new, creative landscaping ideas. As you map out your new plan, keep these design tips in mind.
Safety
Of course, safety comes first, especially on those summer nights when your family and friends play late. Safety elements to consider are:
Lighting — Along with the lights on the back of the house and in the pool, be sure to use landscape lighting so guests can clearly see the pool area. Banish the shadows on any pathways leading to the pool and on the pool deck to avoid tripping hazards.
Non-Slip Surfaces — Pool aprons, pathways and adjacent patios should safely accommodate wet feet and footgear. While natural stone shines with beauty, it can become slick as ice under dripping feet. Consider unobtrusive non-slip coatings or other apron materials to curtail the skids.
Boundaries — If you would like your children and guests to stay around the pool and not wander off into the outlying yard, add a boundary hedge or low fence.
Aesthetics
Naturally, you want your pool and grounds to look amazing. To do this, you need just the right plants, seating and night lighting.
Plants — Choose plants, shrubs and trees that keep to themselves. Foliage that sheds a lot of leaves, blossoms and seeds can increase your filtering and chemicals expenses. Trees that aggressively seek water, such as willows, maples, elms and others, should receive no invitation to your pool environment. Their roots may well penetrate your pool's shell, creating huge repair problems.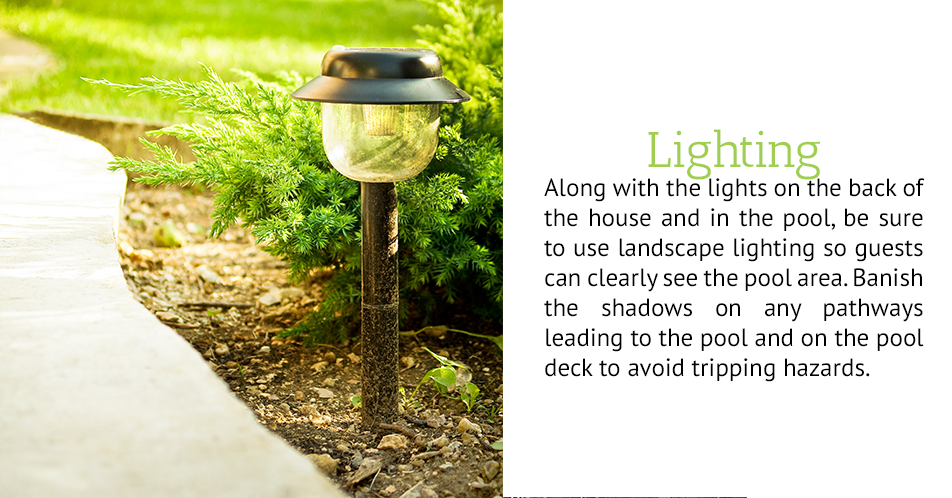 Perimeter shrubs and flowers always look attractive, as does a neatly manicured lawn. Reflect upon the likelihood of grass clippings and soil working its way into the pool on the bottoms of bare feet. Then decide if you need attractive barricades to the growing parts of the yard. Also, completely avoid plants that attract bees.
Seating — Concrete and stone benches grant a resting place for breathless swimmers and look fantastic around the pool. Add large concrete urn planters between benches, as well. With potted flowers, you can enjoy explosions of color without having dirt on the ground near the pool.
Illumination — Always keep the seating sufficiently lit to avoid stubbed toes and skinned shins. Landscape lighting around the pool and grounds contributes a special elegance to your summer night swimming sessions.
Privacy and Shade
Keeping your pool screened from prying eyes helps lower your liability against uninvited swimmers. While you could surround the area with a very tall fence, your municipality may take a little umbrage at its necessary height. However, tall shrubs, such as lilacs can create a more appealing privacy screen without running afoul of the law.
Conventional wisdom suggests avoiding trees for shade because of their falling debris and the potential for bird droppings contaminating the water. Building a shade structure, such as a pergola, over part of the pool can offer needed shade without the mess.
When it comes to landscaping around your inground pool, the sky and your budget are the only limits. Contactus today to learn more about our services and how we can help you fashion the perfect landscape design.