With summer right around the corner, many homeowners are enjoying the lush, green lawns that they put so much time and energy into. Keeping the lawn green and healthy during the summer months, however, can be a challenge. Meyers Green Services would like to offer the following tips for summer lawn care. We are always available to answer any questions or address any concerns that you might have, no matter the season!
Maintain a Regular Mowing Schedule
It is important to mow your lawn on a regular schedule throughout the summer months. It can be tempting to cut the grass low to lengthen the time between mowing, but that approach is likely to yield a brown and struggling lawn. Grass needs to stay at a certain level in order to fight off drought and other lawn hazards. Cutting it too short destroys its natural ability to thrive. When in doubt, err on the high side of your mower's blade setting, and mow regularly.
Know What Type of Grass You Have, and Fertilize Accordingly
Different types of grass have different nutrient requirements that must be met for your lawn to remain thick and healthy. Warm-season grass types need a nutrient boost, and a quick application of fertilizer is the best way to provide those vital nutrients. Be sure to follow the directions listed on the label, and consider using a spreader to achieve even coverage.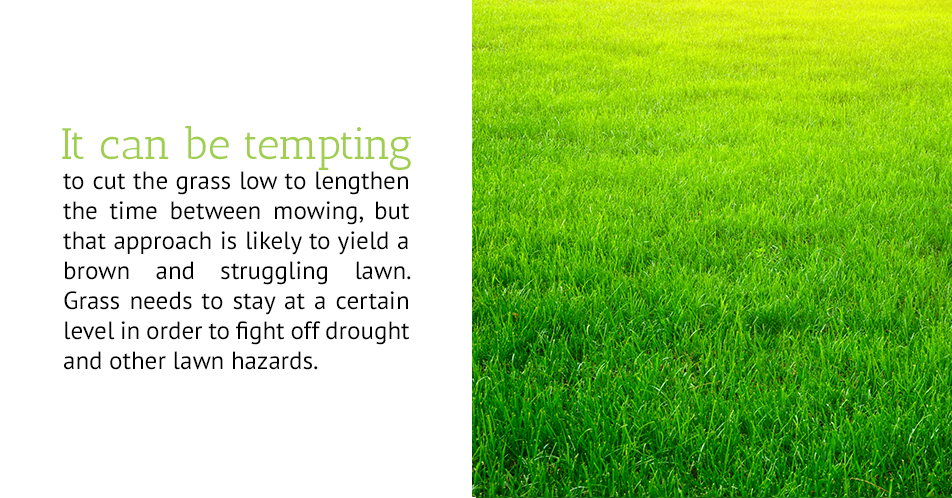 Put in Drought Tolerant Plants
Most homeowners add to their landscaping efforts every season, and summer is no exception. This is a great time of year to add some color to your yard in the form of new annuals or perennials. When choosing new plants, be sure to select those that can withstand both high temperatures and low water levels. That can help reduce the need to water, and make a colorful bed or planter easier to maintain, especially while you are away on vacation.
Never Water During the Afternoon
Even if the right grass seed and drought-tolerant plants are used, there will still be times when it is necessary to water your lawn and other planting areas. The best time to water is in the early morning, while temperatures are lower and plants can make better use of the hydration. During the hotter parts of the day, many plants go dormant. The heat and sun can also speed up evaporation, making less water available for plants to use (and running up your water bill unnecessarily).
Don't Allow Pests to Make Themselves at Home in the Lawn
Summertime is no time to slack off on pest control. Many different types of lawn pests can damage your lawn, including chinch bugs, grubs, sod webworms and armyworms, just to name a few. Be on the lookout for signs of pest infestation, such as patches of brown lawn and grass that appears yellow or even purple. There are many different pesticides on the market, and there is a solution for every type of lawn pest. Find the right product and apply it according to the package directions.
The team at Meyers Green Services hopes that these simple do's and don'ts will help you keep your lawn looking its best this summer. As always, we are here to help with any service that you need and are happy to discuss your lawn care concerns with you over the phone or in person.