Mowing your lawn in the rain is a horrible experience for any homeowner, and in the end, it doesn't do much for your grass. Residential lawn mowers are not made for wet and slippery conditions; they simply aren't quick or large enough, and the weight will cause sinking and ripping in any lawn. Homeowners who try to mow in the rain will simply end up with a soggy, muddy mess, along with these other reasons which prove you should never mow your grass in the rain.
Wet Grass Sticks
When grass is wet, it becomes stickier and is unable to be thrown by the mower like it is when dry. The wet grass will stick and build up on the blades giving them the inability to cut correctly. Over time, if not cleaned, the grass can diminish the overall cutting ability, even when mowing a dry lawn.
Clumpy Clippings
Since wet grass cannot be mulched correctly, it will create clumps on the lawn that are much heavier than typical clumps left behind from mowing a dry lawn. These clumps weigh down the grass beneath them and can suffocate it. This means mowing wet grass while wet can kill patches of grass, giving you a spotty appearance that will take money and time to fix.
The Danger Zone
Mowing wet grass can also be dangerous to you and your family. Wet grass on the lawn, driveway or walkways can create an incredibly slippery surface, making it easy to trip. Because wet grass is also not easily cleaned, you will have to wait until it's dry, meaning a possible lengthy amount of time with a slipping risk. Every year, non-professionals also get seriously injured with flying objects, burns and lacerations in sunny, dry conditions. These risks also increase in fog, rain and low visibility.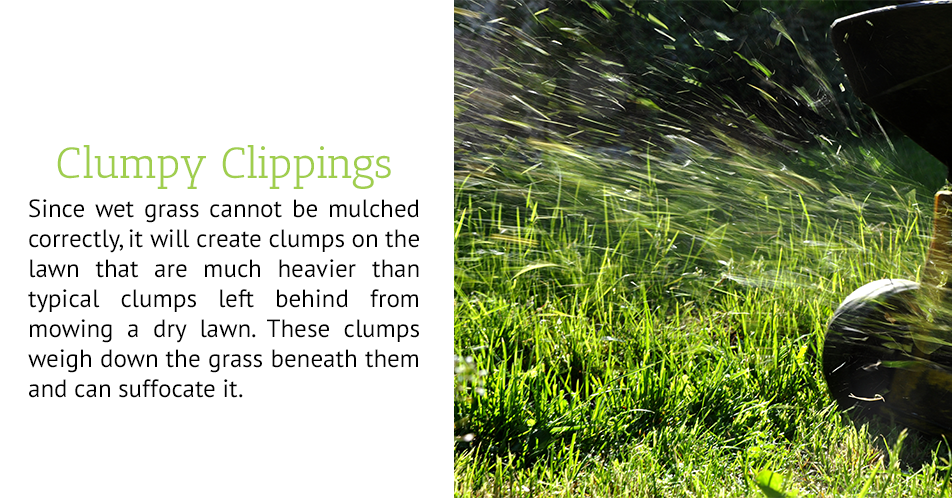 An Uneven Trim
Because water weighs down grass, each blade suddenly becomes a different height from curling and bending. Since residential mowers can only do approximately one pass without sinking into the wet ground, this will lead to an uneven cut if the blade cannot cut all of these pieces easily and correctly on the first pass.
Mold and Damage
Wet grass can do more than dull your blades — it can create other types of damage to your residential mower. In particular, if wet grass is not cleaned out properly after cutting, mold has a chance of growing on your wheels, undercarriage, and blades. If this happens, not only will the mower begin to smell, but it will also be challenging and expensive to clean.
However, not all hope is lost. If you live in a rainy climate or simply have fast-growing grass that needs to be cut rain or shine, commercial mowers can do the trick. We at Meyers Green Services offer a variety of lawn care services for your residential or commercial property. Our team is used to working in any condition and aims to ensure that your lawn looks perfect after our visit. Having your lawn mowed by a professional in the rain guarantees an even cut and safe disposal of the grass without you having to do any of the work. To learn more about our services and get a free estimate contact us today. And, for a limited time, ask about how you can get 10% off aeration and overseed services.