Ahhh, the cool, crisp mornings of autumn have arrived. It's finally time to sit back and relax. But wait! Your lawn needs some special attention right now. If you don't take the time now to prepare it for winter, you'll regret it next spring.
Why Fall Lawn Maintenance is Important
You've worked hard to keep your yard looking pristine all summer long. Autumn is not the time to let things slide. If you do, you may be faced with a sickly lawn in April. Fall maintenance is important in order to give your grass what it needs to absorb the oxygen and nutrients required to survive a rough winter. Plus, letting down your guard now will make all of your landscaping look tired and worn.
Fall Maintenance Projects to Consider
With so many different tasks to handle, you may be wondering what jobs are most important to keep your lawn looking good all year long. Here are some of the basics that Meyers Green Services suggest:
Proper Mowing: just because the days are getting cooler doesn't mean it is time to stop mowing. Of course, mowing to the right length this time of year is vital to keeping grass strong. Our professional mowing team will keep your lawn mowed at about 2 ½ inches to ensure that it still gets the important sun, water and oxygen it needs to thrive.
Weeding: fall is the perfect time to get rid of those weeds. Tackling weeds now will help make spring work much easier.
Raking Leaves: fall leaves may be gorgeous on the trees, but once they hit the ground they become nothing but a big mess. Getting leaves off of the grass before winter strikes is important. If leaves are allowed to remain on the ground, they will choke off the grass by reducing water evaporation. Plus, they can harbor mold and fungus, while also allowing insects to infiltrate the grass and ground. In some cases, diseases from the trees can also be transferred to the ground and grass roots, which can kill your lawn.
Dethatching: unless you have been raking grass clipping (or mulching them) all summer long, thatch may have built up on your lawn. This can cause real problems if left untreated. Be sure that your lawn maintenance crew is dethatching to give your grass a good chance of thriving.
Aerating: one of the most important fall maintenance jobs you can do for your lawn is aerate it. This encourages deep root growth, giving you a thick beautiful lawn in the spring.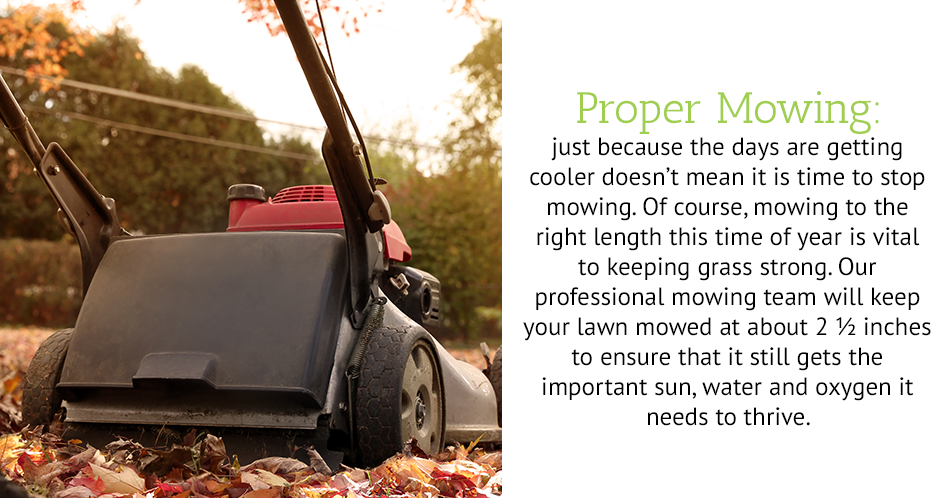 Fertilize: one of the last things on your landscaping crew's to-do list should be a good fertilizing treatment right before the first frost. This will give your grass the nutrients it needs to survive the cold winter months ahead.
Other Landscaping Jobs to Consider
Taking care of your lawn is important, but don't forget those other fall cleanup jobs:
Pruning dead and diseased shrubs and trees. Not only will it keep your shrubs and trees looking good, but it will also keep them healthier.
Planting spring bulbs. Fall is the perfect time to plant flowers like tulips, hyacinths, daffodils, daylilies, and dahlias.
If the long list of fall maintenance project has your overwhelmed, don't worry. Call in the experts at Meyers Green Services for help. Our trained crews are ready to take care of all of your fall maintenance needs to ensure that your landscaping looks its best all year long. Call now and receive 10% off of your fall aeration and overseedservice!