First impressions really do matter. Any landscape pro knows the importance of curb appeal when it comes to making your yard look picture-perfect. Still, not every homeowner has a knack for creating the kind of curb appeal that will get noticed – until now. Here are five quick and easy tips to making your yard stand out:
1. Start with a Spring Clean-Up
Making your yard stand out begins with a basic spring cleaning. Spruce up your property by mowing, weeding and trimming. Rake loose branches and other debris and trim along walkways, patios and driveways. Pulling out old (and dead) plantings, and power washing those stained driveways and faded walkways will help make the entire property look fresh again.
2. Color Draws Interest
When you think of landscaping, you may think about lots of greens. While your yard features a lot of greens and browns naturally, adding a splash of color will draw visitor's eyes toward the house. Make your home look more inviting by lining walkways with colorful plants (or even budding bushes). Add some flowers to garden beds, window boxes or even pots on the porch.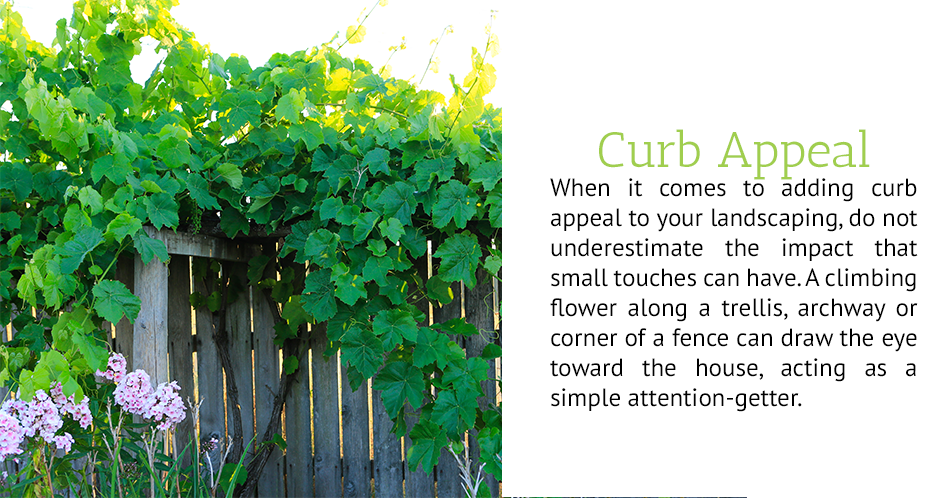 3. Use Mulch for a Dramatic Impact
Colorful organic mulches can add the kind of "wow factor" you are looking for. Even if you don't like today's colorful dyed options, consider adding a thick layer of dark mulch to your flower beds and along walkways for a fresh, clean look.
4. Creative Touches Make a Splash
When it comes to adding curb appeal to your landscaping, do not underestimate the impact that small touches can have. A climbing flower along a trellis, archway or corner of a fence can draw the eye toward the house, acting as a simple attention-getter. Think of simple ways to enhance your landscape design with a few small, creative accents.
5. Trees Add Texture to Any Landscape
Large or small, trees are a beautiful accent to any yard. Of course, making an impact requires choosing the right trees. When planting a tree, consider the size. You don't want it to look too small against the house, but you don't want it to overpower the rest of your landscape either. Also, consider the look you are after and the amount of maintenance it will need when choosing the right trees for your yard.
Bringing in Landscaping Help
Ready to boost your home's curb appeal? Bring in the experts from Meyers Green Services. Our trained crews are ready to design the perfect landscape to accentuate the natural beauty of your property. Call now for a free estimate and get 10% off any pre-paid fertilization service.